Posts for tag: invisalign
By Mark F. Hesker, DDS, PC
December 10, 2018
Can you straighten your smile without metal braces? Over 3 million people so far have achieved their smile goals with discreet Invisalign aligners, an innovative orthodontic system offered by your dentist, Dr. Mark Hesker, in Creve Coeur, MD. Custom-crafted Invisalign aligners are thin, smooth, and transparent, giving you a healthy, well-aligned smile and a profound sense of confidence.
Why Invisalign?
The better question may be, "Why not Invisalign?" For the 20 percent of orthodontic patients who are teens and adults (according to the American Association of Orthodontists), Invisalign can be the quickest, most comfortable and truly effective way to correct common problems such as:
Overbite
Crossbite
Openbite
Underbite
Protruding front teeth
Gaps
Crowding
Orthodontic recession (teeth that shift after braces are removed)
Tooth tipping
Tooth rotation
Congenital absence of teeth
Treatment with Invisalign

After an oral examination and impressions with the sophisticated iTero Scanner, Dr. Hesker can give you a detailed treatment plan and send pertinent information to the Invisalign lab. There, specially trained technicians create 18 to 30 pairs of aligners which snugly fit over your top and bottom teeth. The appliances move teeth into better positions step by step over an average treatment time of one year.

During treatment, you'll visit Dr. Hesker every six weeks so he can track your progress and give you the next sets of aligners in your care plan. You'll wear each pair for about two weeks for 20 to 22 hours a day, removing them to brush, floss and eat.

You can also take them out for an important event such as a job interview or wedding. However, the aligners are so crystal clear no one would notice if you did wear them.

Benefits of Invisalign

There are several, including:
No irritation of lips, tongue, or gums
Ease of care—just brush with toothpaste and warm water
No unusual dietary rules (eat whatever foods you like)
Improved self-confidence and a smile which is less prone to decay, excessive and premature wear and gum disease

Interested? Call Dr. Hesker's Creve Coeur Office Today!

Dr. Hesker is an expert in Invisalign and can help you reach your smile goals! For a personal Invisalign consultation, please call Dr. Mark Hesker and his Creve Coeur team at (314) 569-3337.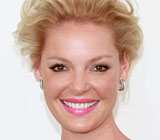 Many adults these days are opting for clear aligners to correct orthodontic problems that have long bothered them. Katherine Heigl is a perfect example. She had one tooth that was out of alignment, and wanted to have it fixed before her wedding day.
"I got them [clear aligners] because of this wonky tooth," Heigl told In Style magazine not long ago. "It's awesome because every two weeks you switch to a new retainer. Pretty much the perfect way to describe Invisalign is Netflix for your teeth."
That's actually a pretty good way to describe this highly user-friendly form of orthodontic treatment. Clear aligners are transparent, plastic oral appliances that are changed every two weeks so that your teeth can be moved a little bit at a time, according to a carefully staged sequence. Though they cover your teeth completely, clear aligners are barely noticeable.
In fact, when Heigl excused herself before taking out her aligners to eat, her In Style interviewer said, "Who knew you wore them? I guess that's the point of Invisalign."
Being able to remove the aligners for eating and, more importantly, teeth-cleaning, is another major advantage of this method of straightening teeth. Successful orthodontic treatment for adults depends on good periodontal health ("peri" – around; "odont" – tooth), and the best way to keep your gums and the underlying bone that supports your teeth healthy is to keep up an effective daily oral hygiene routine.
Clear aligners have been improved in recent years to correct more complicated malocclusions ("mal" – bad; "occlusion" – bite) than previously; they can even work well for teenagers. But there are still some cases that call for traditional braces. We would be happy to explore all the different options for orthodontic treatment with you, whether you have crowded teeth, an overbite or underbite, or just one "wonky tooth."
If you would like more information about clear aligners, please contact us or schedule an appointment for a consultation. You can also learn more about clear aligners in general by reading the Dear Doctor magazine article "Clear Aligners For Teenagers." Dear Doctor also has more on "Wedding Day Smiles."